Himalayan Spiritual Knowledge and the teachings of Lord Budha is very precious for the protection of human values and need of the current Global Human Society to establish the peace across the world.

Nepal is one of the richest Country in the world, yet it has not fully bloomed so far.

This huge and precious treasure trove of young minds to have potential to bring about the sea change in the Global Human Society.

That's preciously the reason we have taken up the initiative for inspiring the youth of Nepal under this farsighted programme called "Motivate Nepal".
Youth is the Fountain Head of all energy.
It is a driving force in all spheres of a country
It is the best link between Past, Present and Future.
They are immense reservoir of strength.

 To awaken and perpetuate the growth of unlimited potential of the young fraternity, so that they can be revolutionized in all spheres of activities and bring about a positive change in every aspect to become a leader.

To help them to realize and recognize their realistic dreams and to achieve their aim.

To ensure holistic development of their personalities in order to help them winner in every sphere of life.

To apprise the youth about their uniqueness and inherent potentials.

To make the youth aware of both the ancient and the modern technological boom, so that they are able to meet the challenges of modern trends smoothly without sacrificing the human values.
4:30 pm to 5:00 pm – Guest Assembling & High Tea
5:00 pm to 5:15 pm – Lamp Lighting and National Song
5:15 pm to 5:45 pm – Guest Honoring
5:45 pm to 6:00 pm – Declaration of Motivate Nepal
6:00 pm to 7:00 pm Speech by Eminent Guest Speakers
7:00 pm to 7:20 pm – Address by Honorable Prime Minister, Govt. of Nepal
7:20 pm to 7:30 pm – Vote for thanks
7:30 pm onwards. Dinner and exchange of Ideas.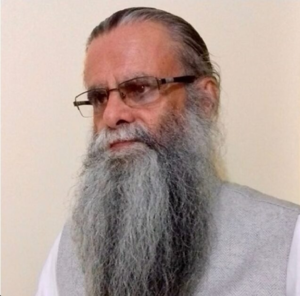 Nepal is the Crown of Bharat & Bharat is the Heart of the world
Shradhey Gurudevjee Shri TP Panta, Spiritual Scientist (Birth Place-Bharatpur, Chitwan, Nepal)
"Nepal is naturally a rich country. Its Dreams can be realised in just 12 years in a planned way."
Dharmbir Prabhakar Founder of Jiyo Jaago Foundation
नेपाल र भारतको सम्बन्ध हिमालय जत्तिकै बलियो र पुरानो छ यहाँको साझा सम्पदा आध्यात्मिक ज्ञान हो, यो महान् 1 विज्ञान हो जसले संसारलाई नयाँ दिशा दिन सक्छ मानव मूल्यको रक्षाका लागि भगवान बुद्धको सन्देश निके मूल्यवान छ बुद्धको बुझाइ अनुसन्धान र विचारले मात्र विश्व मानव समाजमा शान्ति स्थापना हुनेछ त्यसैले नेपाल र भारतबीचको मैत्रीपूर्ण सम्बन्धलाई हिमालयजस्तै उचाइ दिनुपर्छ श्रद्धेय गुरुदेवजी श्री टीपी पन्त द्वारा प्रवचन को समयमा छलफल को एक भाग
"भारत और नेपाल के संबंध हिमालय जैसे अटल और प्राचीन है। आध्यात्मिक ज्ञान हमारी साझी विरासत है। यह ज्ञान ही महाविज्ञान है जो दुनिया को नई दिशा दे सकते हैं। भगवान बुद्ध के संदेश मानवीय मूल्यों के रक्षा हेतु अति मूल्यवान है। बुद्ध के बोध, शोध एवं विचार से ही वैश्विक मानव समाज में शांति स्थापित होगी। इसलिए भारत एवं नेपाल के मैत्रिक सम्बन्धों को हिमालय जैसे ऊँचाई देनी होगी।" -श्रद्धेय गुरुदेवजी से बात-चित का एक
The relation between Bharat and Nepal has been as firm and old as the Himalayas. The common heritage here is Spiritual Knowledge, it is the great science that can give a new direction to the world. The teachings of Lord Buddha is very valuable for the preservation and promotion of human values. Peace will be established in the Global Human Society only with the understanding and implementing the thoughts of Buddha. Therefore, the friendly relations between Bharat and Nepal should be strengthened and taken to a new height like the Himalayas. -A Part of discussion during discourse by Shradhey Gurudevjee Shri TP Panta
Shradhey Gurudevjee Shri T.P. Panta, Spritual Scientist, born in 1962, Bharatpur, District Chitwan, Nepal. He was an incredible person about whom we are unable to describe in words because his discoveries are beyond descriptions. He was an epitome of selessness, knowledge and deep understanding of the modern material world and Spiritual Science.
Shradhey Gurudevjee SHRI TP PANTA
has written many valuable Books:- . Resurrection of the Ancient Indian Cosmology Brief Introduction of the Ancient Indian Science which were lost . Poverty Social Crimes and Terrorism of South Asia A Brief Introduction of the Universal Laws for a Balanced Democratic Social System. .Balancocracy Theory of Equi-Quadrilateral Social Balance .Wake-up Indian Leaders A Socio and Geo-Economic Structure of the Cosmic Democracy